Unlike my book, which was translated by professionals, this blog was partly translated by an automated translation program. Therefore, the translation may not be perfect.
Just over a year and a half ago, when I had traveled to Korea while waiting for the Japanese reopening, I visited coastal city (and second city of Korea) Busan. I wrote about it in this blog, and later in my new book (preorder here!):
I had booked the Ibis Budget hotel in Haeundae, the Scheveningen of Busan. My room had a view of the beach, the sea, and, because it was clear: of Japan. From my room, I could see the outline of the island of Tsushima in the distance: Japanese territory. Secretly that was also partly the motivation behind my choice, but I didn't know that I would actually get that room on the eleventh floor with a sea view. And that it would be clear enough. But when I opened the door with my key card, I saw it immediately. There was Japan. So close, yet so far.
Curious by the way that on my blog it was the fifteenth floor, and in my book it was suddenly the eleventh…. Oh-oh, did I spot a mistake there?
Since that first visit to Busan, it was my wish to visit Tsushima. To wave back from the other side, or something. I like to weave stories together in my head, and that trip to Busan…. That wasn't yet completed. In fact, it was the bit where I teared up while recording my audiobook. Now my whole book is kind of processing corona times, but this bit was extra sensitive. I felt again that painful helplessness, of seeing Japan lying there but not being allowed to enter, and above all: of that gnawing, biting uncertainty.
So when I was making vacation plans with Riemer for his annual visit to Japan, Tsushima was high on my list. And while we were at it, we also wanted to visit Busan (again). Riemer had never been there anyway, and I was also curious: What would Busan be like a year and a half later? On YouTube we saw a couple making the crossing on the Queen Beetle, a super-fast ferry, so that's what we were going to do – although the video already warned us of a common problem….
Ferry funny joke here
But let's begin with the beginning. On Saturday morning, Oct. 14, we flew from Tokyo's Haneda Airport to Fukuoka. We had done the same a year earlier, and we liked it then; Fukuoka's airport is in the middle of the city, which makes the approach route very uhm, interesting, but the trip to and from the airport super easy. Two stops on the subway and you're at Hakata Station, Fukuoka's largest train station.
Because I always have to fight sensory overload while traveling, I have a few rules. One is: travel days are travel days, and nothing else. Now you'll see that this didn't quite work out during this trip, but basically I want to arrive somewhere, pop into my hotel, and don't explore anything until the next day. And on that day I don't want to travel back or onward as well, that will come later. I also knew from previous times that when I travel with Riemer, it's best to take my own hotel room. So for this trip we booked austere single rooms, not deluxe double suites. That Saturday we checked into a basic business hotel near Hakata Station, and dozed off. The next day we had a ferry to catch.
Unfortunately, the ferry terminal was not located very centrally, so we had to take some packed city bus for twenty minutes (because along the route there is also a convention center, and something was going on there, I guess). But after a stressful ride (I don't like buses, they don't have toilets) and a little search for the right terminal (because that can never ever just be straightforward) we were well in time for our boat: the Venus 2.
Boeing apparently not only makes airplanes....
...but boats too!
Interesting movie choice
The Venus 2 is a run-down ferry of the kind I also joked about in 2017 when we went to Huis Ten Bosch. The ferry to Ikeshima also looked similar, which makes me think that Japan once had a ferry boom, in 1988 or something. The ferry we went on was a jetfoil, one of those things that flies over the water; must have been state-of-the-art in the 1980s. Anyway, enough complaining about the ferry, we didn't sink, and after just over two hours and a stop on another island, we were finally on Tsushima. Did I get all emo? Not really. We still had to pick up a rental car.
After all, our plan was as follows: We would take the ferry to Izuhara, a town in the southern part of Tsushima, where most of the ferries arrived. There we would rent a car, drive north and spend the night. The next day we would drive back south and take the ferry back to Fukuoka.
So we picked up the car, and drove to the other side of the island in two hours. Or well, Riemer drove. I don't have a driver's license. Now Riemer also had to pick up a special international driver's license for this, and teach himself to drive on the left side of the road. Quite a challenge, since the roads on Tsushima are often narrow, winding mountain roads, on which sometimes a car suddenly stops because the elderly driver is picking wild persimmons on the shoulder – or doing whatever else. And when we took a turn toward the lookout toward the end of our trip, we suddenly found ourselves driving on a slope strewn with rocks and branches, as if a wall had collapsed on top of the mountain, rolling straight down.
Scenic spot along the way
Rental car with sticker: Careful, foreigner!
There lies Busan. Yes, you can't see it in the photo, but if you squinted your eyes very carefully, you could just see it!
That night we slept in Hitakatsu at the Toyoko Inn hotel, a chain that looks pretty much the same everywhere. Yet this hotel was slightly different: because it was so remote, free curry was served to guests in the evening. Two ladies stood behind a table in the restaurant with a large pot of rice and a large pot of sauce, as if it were the company cafeteria. This free meal was very welcome, as it meant we did not have to look for a restaurant or convenience store. After a brief visit to the beach that the hotel was directly adjacent to, we dozed off to bed. After all, we had to be back at the port in time the next day.
As you can see, my travel rule already went out the window here. But there really wasn't any other way. We would have liked to take the boat to Busan from Hitakatsu, the village in the north of Tsushima. It runs from there as well, since it's less than an hour and a half to Busan from Hitakatsu. But buying a ticket for that ferry from Japan was virtually impossible – especially online. There was a website, but it was only in Korean. And to order, you had to have a Korean phone number. On top of that, although some car rental companies were located both north and south, rental cars always had to be returned to where you picked them up. And traveling directly from Fukuoka to Hitakatsu wasn't doable either, because those ferries left at bizarre times, in the middle of the night.
Hotel views
So pretty
"Hill where a neighboring country can see", said the sign...
Lies!
Back to business hotel
The next day we drove back to the southern port of the island. On the way we stopped at another viewpoint, hoping for a better view of Korea, but this time we absolutely saw nothing. So after two hours of driving, over two hours on the ferry and another stretch by bus, we were back at the same basic hotel where we checked out a day earlier. Here we would stay for the next two nights. Some rest, before we would travel to Busan. (Haha, just kidding. That evening during dinner I received two emails from stressed customers: trouble with the MyParcel and PostNL plugins. I quickly ate my dinner, hurried back to the hotel and spent the rest of the evening amidst the code.)
The next day I picked up my Starbucks medal for Saga prefecture at the beautiful library/bookstore in Takeo Onsen. I wasn't feeling very well that day, so that night I didn't do much more than take a bath. The next day we were going to hit the road again.
Hotel views
Also hotel views
To Korea
The fast ferry to Busan is operated by JR Kyushu (the railroad company?!) and whizzes from Fukuoka's international terminal to Busan's international terminal in just over three and a half hours. Both buildings are like airports, but very tiny. Well, the buildings are not tiny, they are huge. But there are just two officers, there is one gate, and I really had to remind myself that I really should not forget to get a re-entry permit. I was still going abroad, of course. Although it is crazy to think that two years ago the terminals were completely closed, whereas now there were no tests, K-eta forms or visa letters required.
On board we were also handed a Korean customs form, and here I made a critical mistake, which I should have been warned about after watching the video of the two guys I linked to above; I filled out the form on a moving boat, and got absolutely nauseous. Although we had booked deluxe first-class seats, we spent almost the entire crossing sitting at a cramped table by the window.
Queen Beetle
In Busan, we had deliberately chosen the same hotel where I was a year and a half ago: the Ibis Budget Ambassador hotel in Haeundae. With a sea view, in other words, Tsushima view. From the ferry terminal it was still an hour by subway, so once I got there I decided to call it a day. The next day I also wanted to have some quiet time behind my laptop, so Riemer went to explore the neighborhood on his own. I had been there anyway, so that was fine. Later that day we walked a bit together, and visited Busan x The Sky, the giant tower with Starbucks that I had also been to last time, but wanted to visit again.
Working with Tsushima view
I tried to get into Korean, but that's next level...
The view from the Starbucks in Busan x The Sky at sunset
After two nights in Busan, eating noodles with scissors and a sitting of Korean BBQ, we caught the subway back to the ferry terminal. I was pretty overstimulated by now, and I was looking forward to going back to Japan; the noise level in Japan is several decibels lower than in Korea, and the number of grannies with perms stalling in front of you with their shopping baskets on wheels is also a lot lower. Busan is beautiful, really, but Japan is home.
As soon as I got on the ferry, I felt back in Japan; the announcements, the staff…. I could understand at least a little. And this time I wasn't nauseous, so I ordered a pizza and Riemer and I enjoyed the free soft ice creams you could get as a first-class passenger. In Fukuoka we made our way to the same hotel near the train station for the third time; the next day we would catch the shinkansen to Osaka.
And some more
Of Osaka I really didn't see anything at all. If it had been up to me we would have traveled on in one go, although Fukuoka – Tokyo is a five-hour trip. But Riemer had never really been to Osaka, except for a transfer perhaps, so he was eager to explore the city. It was Saturday night and Riemer left for a bustling Dotonbori.
I stayed at the hotel. The day before, on the ferry from Busan to Fukuoka, I got a message about an opinion piece in Trouw, containing rather peculiar ideas about autism and giftedness. Five autistic writers joined forces, and that evening in Fukuoka I began writing. In Osaka, I finalized our response.
The next day we boarded the shinkansen again, to continue our journey home. After that – except for buying train tickets for the night train, which was enough stress for the day – I did absolutely nothing for two days. Riemer left early Wednesday morning, so at 5:00 he was at my door with the key to my office, where he had been staying for the first and last days of his visit. I was sensory overloaded for the rest of the week. Our response to the Trouw article was published that Friday, you can read it here (in Dutch).
Autistic justification
Don't get me wrong, I really enjoyed this trip. But for a week, my mind remained stuck on Tsushima. All the memories of Tsushima are clear, and you can probably see that in this blog. After that, it became more and more of a blur, and I stayed inside more and more. That this has all worked out well is because by now I know how this works for me. That's why we had two nights of Busan, not one. That's why I had my own room. That's why we chose hotels in Fukuoka and Osaka that were within walking distance of the train station.
When I was younger, I wrote more blog posts. I regularly used the pieces to clear my head, and I'm trying to do that a bit with this post as well. Writing down what we did in Takeo-Onsen, Busan and Osaka sort of reorganizes my memories. Like having a closet where everything is just crammed in, where by writing a blog you pull everything out, fold it neatly and put it on the right shelf.
Noks Nauta and Willem de Boer of the Trouw article will say I can't have autism if I can go on a trip. Others will say that I am whining, because why am I crying about a vacation, oh the privilege, and do you realize that there is war in the world? As for me, every time after a silly article like that I feel the need to justify myself, to not write a blog where everything just seemed nice and easy, but also not a blog where I whine. Oh well. Apparently others always have something to whine about too, so it is what it is. ;)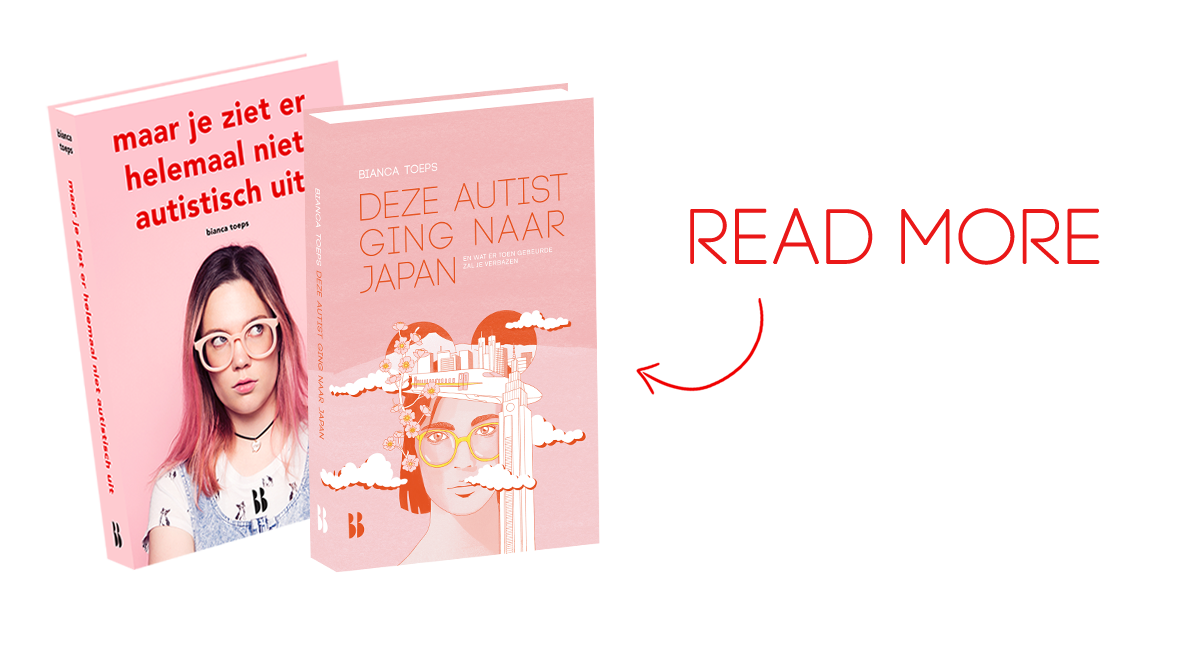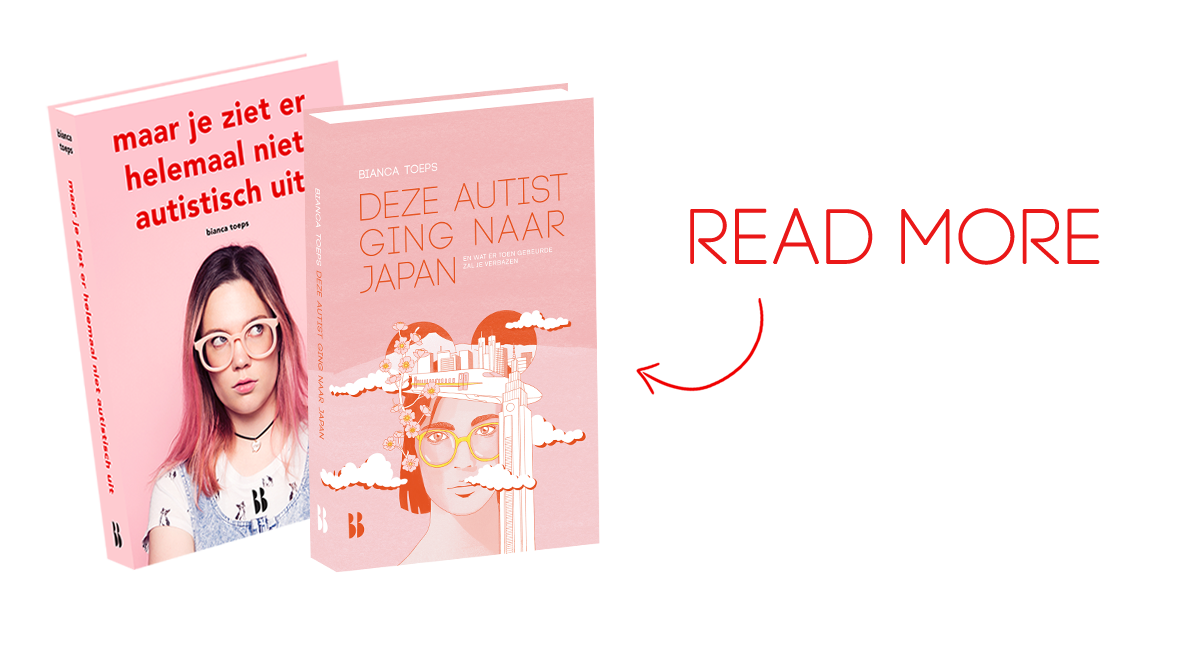 Related posts